Last Updated on
Whether you're a beginner in the world of firearms or a seasoned shooter looking to expand your arsenal, choosing the right AR-15 rifle is a far from easy task. To save you time and nerve, we at Gritr Sports have compiled a list of 6 best AR-15 rifles for the money. You'll also find a buying guide after the reviewing part, where all the key factors of the best AR-15 rifles are outlined. Let's jump into it, shall we? 
Table of Contents
  – Daniel Defense DDM4 V7
  – Springfield Saint Victor
  – Wilson Combat Recon Tactical
  – CMMG Resolute MK4
  – Colt AR15A4
  – Noveske Infidel Gen 4
 Buying Guide
 FAQs
Daniel Defense DDM4 V7
Daniel Defense has long become a Top AR-15 lists' regular, and for a good reason. Recognized for their exceptional quality and performance, the brand's AR-15 rifles incorporate superior components and craftsmanship. And of the gem collection that is Daniel Defense's AR-15 lineup, the DDM4 V7 is the crown jewel.
The first thing you notice when you pick up the DDM4 V7 is its design. The handguard, thin and studded with M-LOK, is a signature of Daniel Defense. It gives the rifle a sleek look and provides ample room for accessories. The grip and stock are curved, fitting naturally in your hands and against your shoulder. And the Gun Metal Gray finish? It's a touch of class that makes it stand out from the crowd.
Despite its rugged capabilities, the DDM4 V7 remains lightweight. The rifle feels balanced and doesn't strain arms even after extended use (at least it didn't do that to me). This makes it a joy to handle.
One standout feature of the DDM4 V7 is the 18-inch Strength to Weight Cold Hammer Forged barrel. This isn't just a fancy name, as you might think. The barrel genuinely enhances the performance of the rifle. The cold hammer forging process boosts the barrel's durability and extends its lifespan. At the same time, the 18-inch length strikes a balance between velocity and maneuverability.
But looks aren't everything, of course. What about performance? Well, let me tell you, the DDM4 V7 packs a punch. In my tests, the rifle performed flawlessly. No jams, no misfires, just pure, consistent performance. And the accuracy was spot on as if the rifle and I were in complete alignment. I tried shooting off a barrel or standing up – the groupings were tight in both cases. Mount a red dot you trust, and hitting the bullseye out of your target won't be a problem.
So, is the DDM4 V7 worth its price tag? In my opinion, absolutely. It might cost more than some other AR-15s on the market, but what you're getting in return is a high-quality, reliable, and accurate rifle. It's an investment that will pay off every time you pull the trigger. Which will probably be thousands of times.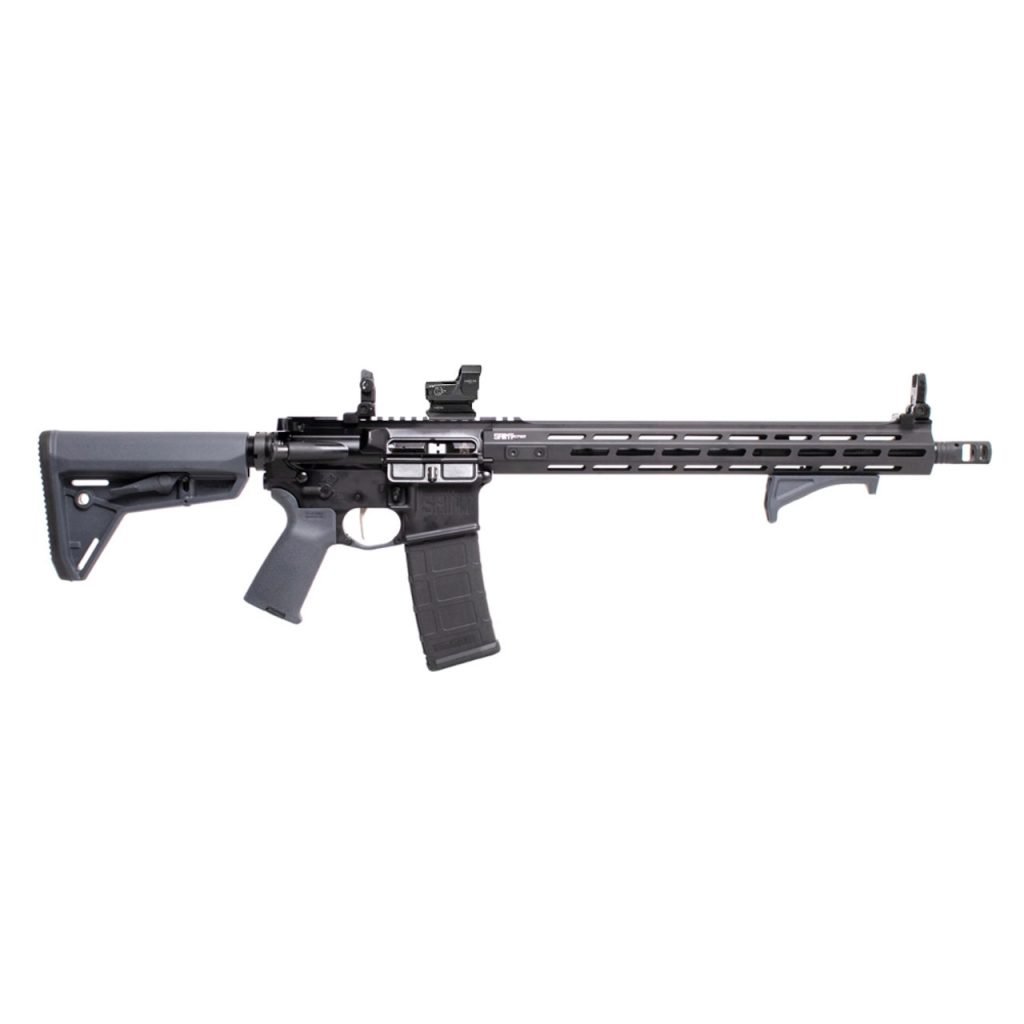 Springfield Saint Victor
Springfield Armory boasts centuries of history and expertise that were passed on to its new incarnation. The brand produces a wide variety of firearms and AR-15 is one of its signature products. At least, the model you'll read about in a moment.
First off, the design. The Saint Victor is a sleek, matte black AR-15-style rifle. It's got a 16-inch barrel, making it a comfortable size for both range shooting and home defense. The weight? A manageable 6.9 pounds. Not too heavy, not too light – just right.
The upper and lower receivers are forged Type III hard coat anodized 7075-T6 aluminum, which is a mouthful to say but translates to robust and reliable. The M-Lok free-float 15″ handguard gives the rifle a modern look and feel while providing plenty of space for accessories.
Now, let's talk about components. This Saint Victor uses a mid-length gas system that ensures reduced recoil and improves the overall handling. The .223 Wylde chamber allows for both .223 Remington and 5.56x45mm NATO ammunition, in case you have both types of ammo.
As for the trigger – well, it's something!​ A flat-faced nickel boron-coated single-stage​ trigger, which gave me a crisp, clean​ pull every time. I enjoyed shooting it​ immensely and honestly regretted that I don't ​have one of my own.​
But what​ about the distinctive features? Well, the​ Bravo Company stock and pistol grip ​are designed with ergonomics in mind, and ​I found them to be incredibly comfortable during the test. The flip-up sights ​were easy to use and adjust, and the muzzle brake did a fantastic job of reducing recoil and​ muzzle rise.
In terms of reliability, I put hundreds ​of rounds through the Saint Victor without a single hiccup. It fed, fired, and ejected rounds ​flawlessly. If there is anything else one might want from a rifle, I'm not aware of it.
To sum it up, the Springfield Saint​ Victor is a well-designed, reliable, and feature-rich rifle that offers excellent performance and versatility. Whether ​you're new to the AR-15 platform or a seasoned pro, I believe you'll find the Saint Victor to be a ​worthy addition to your arsenal.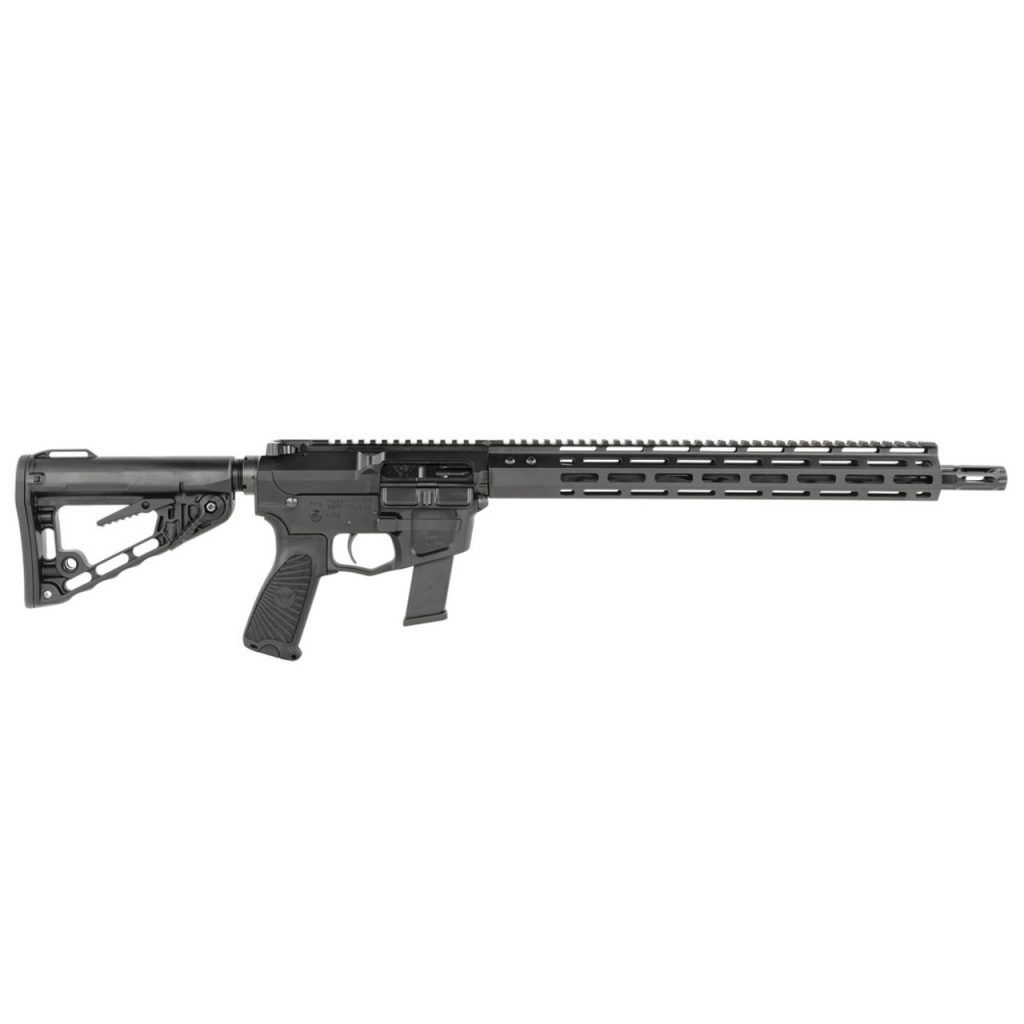 Wilson Combat Recon Tactical
Yet another ​AR-15 giant is here with a rifle that will ​allow you to fulfill your potential. Wilson​ Combat designed this practical, ​all-around AR for tactical conditions, but anyone​ with an eye for good rifles can ​benefit from owning it. I bet it would​ even make for a decent hunting rifle, but that might ​be something you can check firsthand.
Starting with the ​construction, the Recon Tactical is built on a forged 7075-T6 aluminum-alloy ​upper and lower receiver. This material is renowned ​for its strength and durability, ensuring it will outlive a ​mediocre rifle by at least a couple ​of years. Maybe a decade, I honestly didn't have time to check.
One of the key components​ contributing to the rifle's performance​ is its match-grade barrel. Designed to ​maintain top-notch accuracy even ​during sustained high​ rates of fire, it is certainly one of the biggest points ​of pride for Wilson Combat. In my own testing, I found​ that the barrel lived up to all the claims: I experienced​ nothing but consistent, accurate shots at various rates of fire.​
The handguards on the Recon Tactical deserve a special mention. They're lightweight and customizable, allowing you to add sections of rail where needed. Those attentive enough will spy QR sling sockets, which are a nice touch for those who prefer to use a sling.
In terms of handling, the Recon Tactical was another pleasant shot. It felt similar to the lighter weight of Daniel's DD5. All the controls were easy to reach and operate, which made the shooting experience smooth and enjoyable.
Even though I only tried it on the range, I'm sure it will make for a great home-defense rifle. It is built to withstand whatever you throw at it, so if you are after a versatile AR-15 rifle, it might be just the case.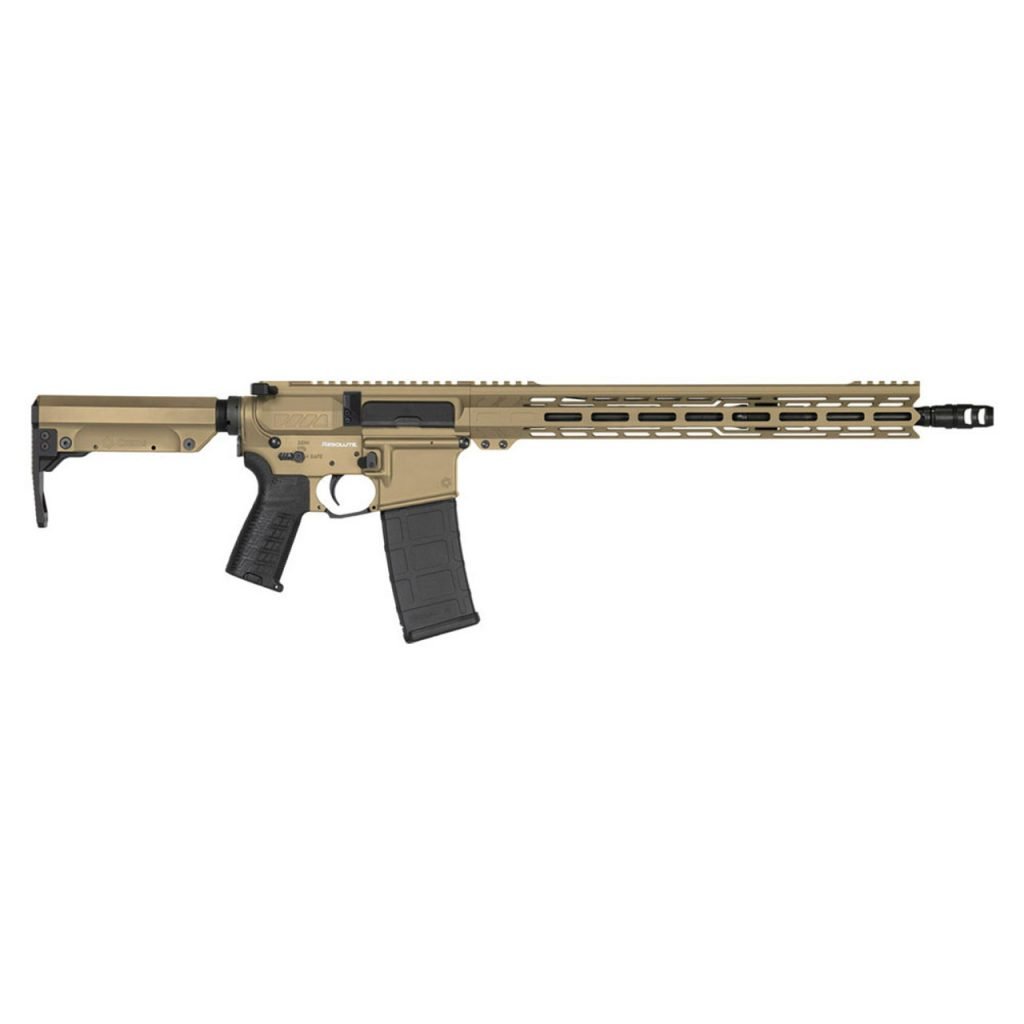 CMMG Resolute MK4
The CMMG Resolute MK4 is a semi-automatic AR-15-style rifle that features a 16.1-inch medium tapered barrel. Aesthetically,​ it has a sleek design​ with a hard coat​ anodized finish that​ gives it a professional look. ​The rifle itself weighs in at around 6.5 pounds, ​which isn't one bit heavy and​ allows for comfortable handling.​
The upper and lower ​receivers are made from forged 7075-T6 aluminum, ​which is a high-strength aerospace alloy. This not​ only adds to the rifle's durability ​but also ensures reliable performance under various conditions.​
One ​of the distinctive features of the​ Resolute MK4 is its use of CMMG's Radial Delayed Blowback (RDB) system. ​That's yet another technology ​aimed at reducing recoil and it ​performs its functions excellently.​
The rifle's handguard ​comes equipped with M-LOK attachment points, ​providing plenty of space for mounting accessories. ​The full-length Picatinny rail ​on top also allows for easy mounting​ of optics.
As for the trigger, ​the Resolute MK4 uses a single-stage mil-spec-style trigger.​ While it doesn't have the lightest pull, it was ​consistent and reliable during ​testing.
I found the Magpul MOE pistol grip ​and CMMG RipStock pretty comfortable. They seem to add to​ the overall user-friendly design of the rifle. The RipStock, in ​particular, is a nice ​touch as it allows for quick and easy ​length-of-pull adjustments without needing ​to press a release lever.
The CMMG ​Resolute MK4 is a solid, reliable, and​ user-friendly AR-15-style rifle. Its unique ​features like the RDB system ​and RipStock set it apart from ​other rifles on the list.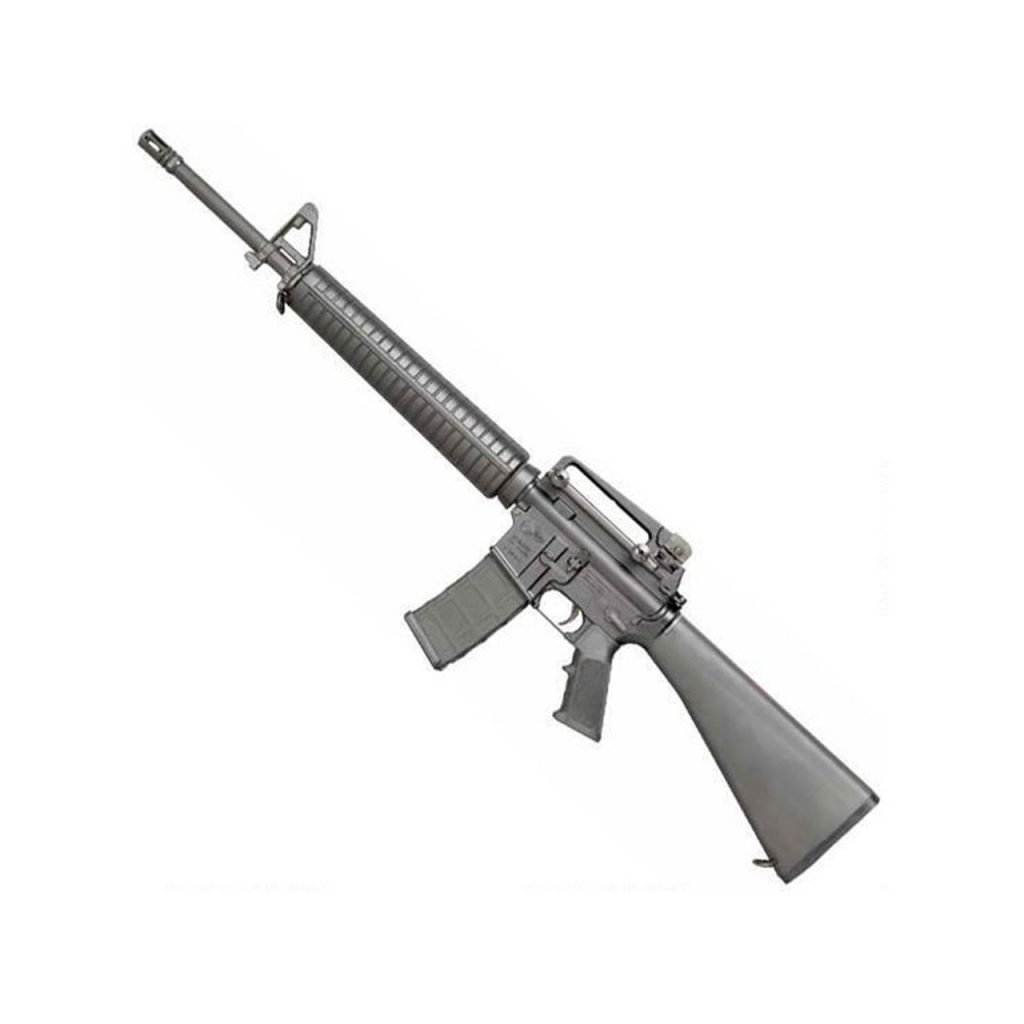 Colt AR15A4
I've also had​ the pleasure of spending some time ​with the Colt AR15A4. This rifle is a classic AR-15 model, a ​throwback to the full-size ARs that laid the groundwork for​ the modern sporting rifle.
Let's begin​ with the components. The Colt AR15A4 sports a 20" barrel, which​ is the longest barrel on the list. With a 1:7 barrel twist rate, ​you'll get a bullet that's ​better stabilized ​and thus​ is more likely to ​act as it's supposed to. The​ gun also has a rifle-length ​gas system, known for offering​ smoother shooting and less​ recoil compared to ​shorter systems.
The rifle's​ weight is slightly on the​ heavier side, coming in at over a​ pound heavier than some other AR-15​ models from our​ review. While this might​ make it a bit more​ tiring to carry around for ​extended periods, the added ​weight can contribute to stability ​when shooting, so it's not that bad necessarily.​
Now, let's talk about ​the trigger. The AR15A4 comes with​ a standard trigger, nothing fancy. And yet, it ​gets the job done​ for most shooting scenarios. It is ​certainly eclipsed by some of the fancier triggers I've covered so far, ​but again, nothing stops you from replacing it after the purchase. Or keeping it, I don't know your preferences.
The AR15A4 is chambered for .223 Remington/5.56 NATO, making it versatile in terms of ammunition choices. During my test, the rifle fed, fired, and ejected rounds flawlessly, demonstrating its reliability.
One of the standout features of the AR15A4 is its resemblance to the M16A4, especially when fitted with a KAC M5 rail system. This gives it a distinctive look and feel that will appeal to those who appreciate classic military-style designs.
In terms of performance, the AR15A4 performed admirably. Despite its standard trigger and heavier weight, I was able to achieve okay-ish groupings at various ranges (I won't pass the buck to the rifle, I'm not exactly an AR marksman). I bet the longer barrel also worked with rather than against me.
In summary, the Colt AR15A4 is a reliable, versatile, and classic AR-15 model. If you are in for the "original style ARs" you'll probably like it. But it'd still recommend changing the trigger, just to make it even better.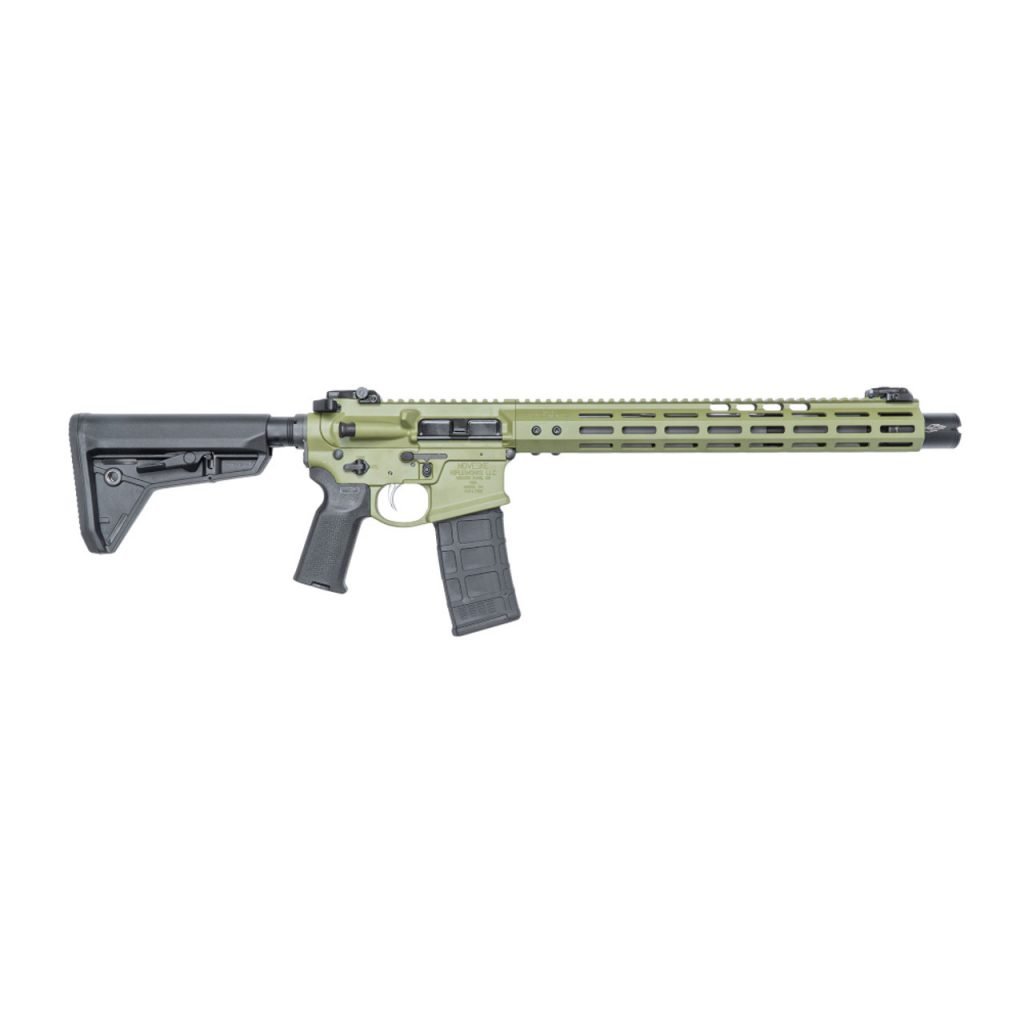 Noveske Infidel Gen 4
The Noveske Infidel Gen 4 gets the honor of concluding the reviewing part. It features the shortest barrel among the reviewed rifles (that wouldn't have been allowed but for a conventional trick). But that feature is far from being the determining one.
Firstly, the rifle is constructed from precision-machined 7075-T6 aluminum that you've seen at least three times already (it's really good for rifles). With an Armor Black Cerakote ceramic coating, the rifle gets both sleek looks and increased durability.
The Infidel Gen 4 sports a 13.7″ stainless steel barrel welded with a Noveske KX3 flash suppressor to make up for the lacking barrel length. It also sports a mid-length gas system and extended hand-polished feed ramps. If I have someone to thank for the gun's smooth operation, it's probably those guys.
The 15″ NSR handguard doesn't only provide space for accessories but also facilitates a good grip. The rifle weighs 7.2 pounds, which is less than our heavyweight Colt AR15A4 but is still heavier than the rest of the rifles. After having wielded Colt, I didn't find it to be that heavy, though.
Bolt and magazine releases are ambidextrous, and so is the Magpul STS safety selector. In fact, the lower receiver abounds in all sorts of noteworthy features, and the upper doesn't lag behind. All of those are listed on the rifle's product page, but long story short, they are plentiful.
In terms of performance, the Infidel Gen 4 lived up to my expectations. And I did have some, having seen its price tag. Noveske's FAQs have it that the fit between uppers and lowers can vary due to mil-spec scale broadness, but I don't think that was the case with the rifle I tested. My experience was as smooth as butter. I'm not sure I'd spend that much on an AR, not being a loyal fan, but if you consider yourself an AR-15 connoisseur, I think you'll truly enjoy your time with it. 
That's it for the reviewing part. Remember, that your AR will serve you faithfully as long as you keep caring for it. You can check out our article How to Choose an AR-15 Rifle Case to find the best possible case for your AR-15.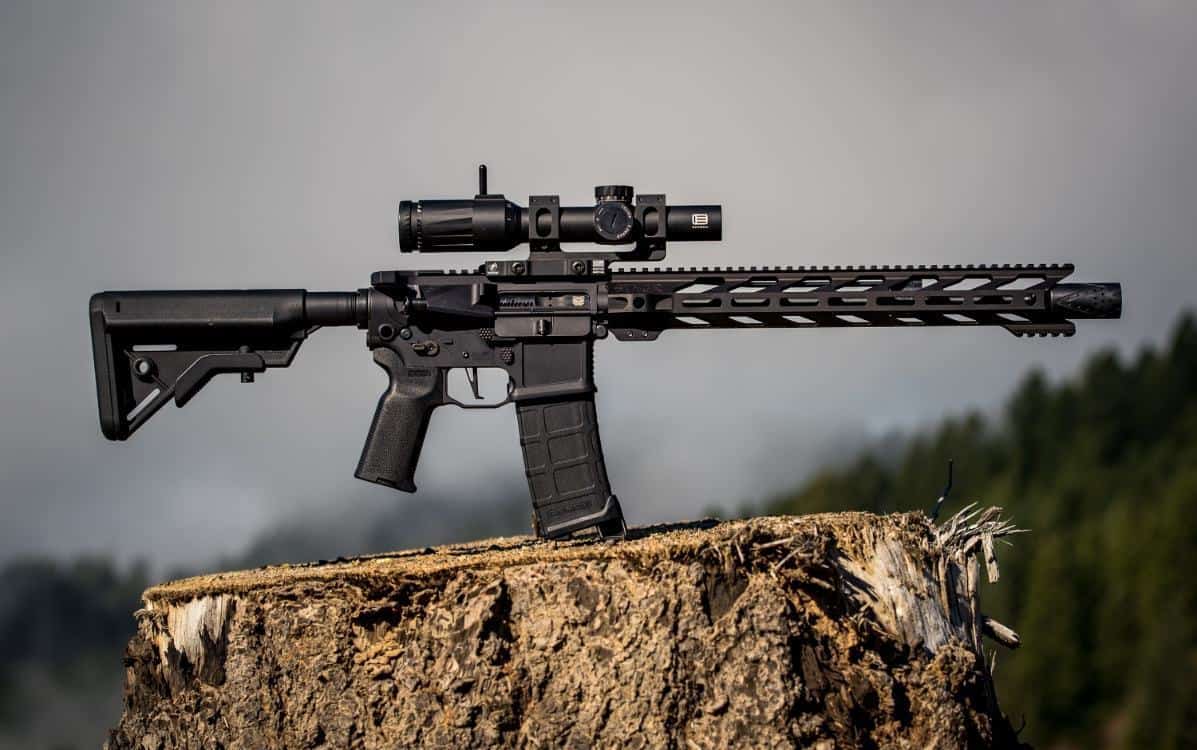 Buying Guide
Price
The price of AR-15 rifles can vary widely, starting from around $400 for basic models and skyrocketing to $2,000 or more for high-end variants (some of which I've covered in this article). The average price is roughly $850 but it can fluctuate depending on various elements such as the brand, features, and materials used. Remember, you often get what you pay for, so don't skimp if you're looking for quality and performance. The models you've seen made it into the review thanks to their impeccable performance.
Quality
The first thing you should check is the material used in the construction of the rifle. High-quality AR-15s are typically made from 7075-T6 aluminum (hello again). If you are looking into the compound of the alloy, know that carbon and/or vanadium presence in the alloy prolongs barrel life and boosts performance.
The quality level of key parts such as the bolt carrier group is another factor to assess. This is where you can take the reviews into account. Dishonest manufacturers tend to have a small army of dissatisfied customers that won't miss an opportunity to express their indignation.
Features
When choosing an AR-15, there's a plethora of features to consider that can significantly impact the rifle's performance and suitability for your specific needs. The first aspect to consider is the purpose of the rifle. Are you interested in target shooting, hunting, home defense, or competition?
Your intended use will guide your choices in many other aspects as well. Those may include component-related choices like barrel length, twist rate, BCG or something more general like affordability or looks.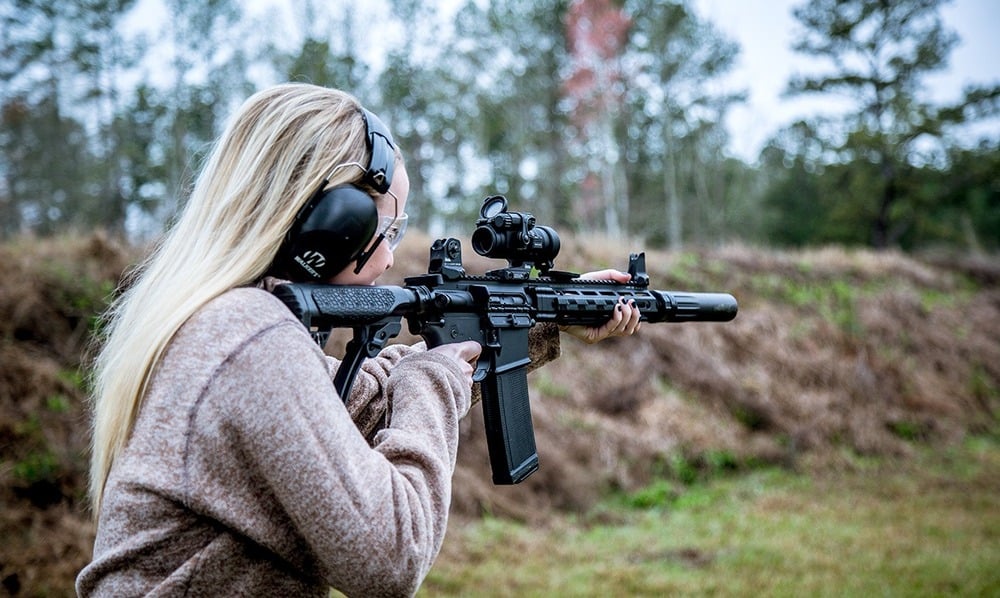 Caliber
When ​selecting a caliber for ​your AR-15, the most popular​ choice is the standard .223 Remington/5.56 NATO, developed​ in conjunction with the ​AR-15 by Eugene Stoner. ​This caliber is widely used ​due to its versatility and ​availability.
However, ​there are other popular alternatives. The .300 AAC ​Blackout is a popular choice, especially ​for those who want a larger caliber ​round that can still fit​ in a standard AR-15​ magazine. By the​ way, here's our Rifle Magazine Review where you​ can find the best mags for AR-15.​
Barrel Twist
The barrel twist rate,​ also known as a rifling twist, refers to​ how many inches of barrel length it takes for​ the bullet to make one complete ​rotation. The most common ​twist rates for AR-15s​ are 1:7, 1:8, and 1:9.
A 1:7 twist ​rate is very effective at stabilizing rounds heavier ​than 69 grains. This rate​ is currently used in the military M4 and​ M16-A4 rifles. Therefore, if you​ plan to use heavier bullets for​ long-range shooting or ​precision shooting, a 1:7 twist rate might be the​ best choice.
On the other hand, a 1:9 twist rate can​ better stabilize lighter bullets in the 45 to 55-grain ​range. If you're looking for an AR-15​ for general plinking and ​range usage with lighter​ ammunition, a 1:9 twist rate should ​serve you well. There is also a 1:8 twist rate​ which is a middle-of-the-road option​ that provides a good balance.
Muzzle Devices
The muzzle is one​ of the AR parts very open to modifications.​ There are several types of muzzle devices that you can ​choose from, each with its specific ​advantages.
Flash suppressors, also known as flash hiders, are designed to reduce the visible signature caused by the burning gasses exiting the barrel, making it harder for opponents to spot your location in low-light conditions. An example of a flash hider is the A2 Birdcage.
Muzzle brakes help to counteract the forces of recoil by redirecting the gasses out of the sides of the barrel thus allowing for faster follow-up shots. Precision Armament M4-72 Severe Duty and Nero 556 are examples of muzzle brakes.
Compensators are similar to muzzle brakes but are primarily designed to reduce muzzle rise (the vertical movement of the gun when fired) rather than recoil. They achieve this by venting gasses vertically. The Strike Industries J-Comp V2 is a popular compensator option.
Some devices combine the features of flash hiders, muzzle brakes, and compensators. Apart from these, there are also thread protectors which protect the threaded barrel when a muzzle device isn't installed, and blast shields which reduce the side blast and noise associated with using a brake.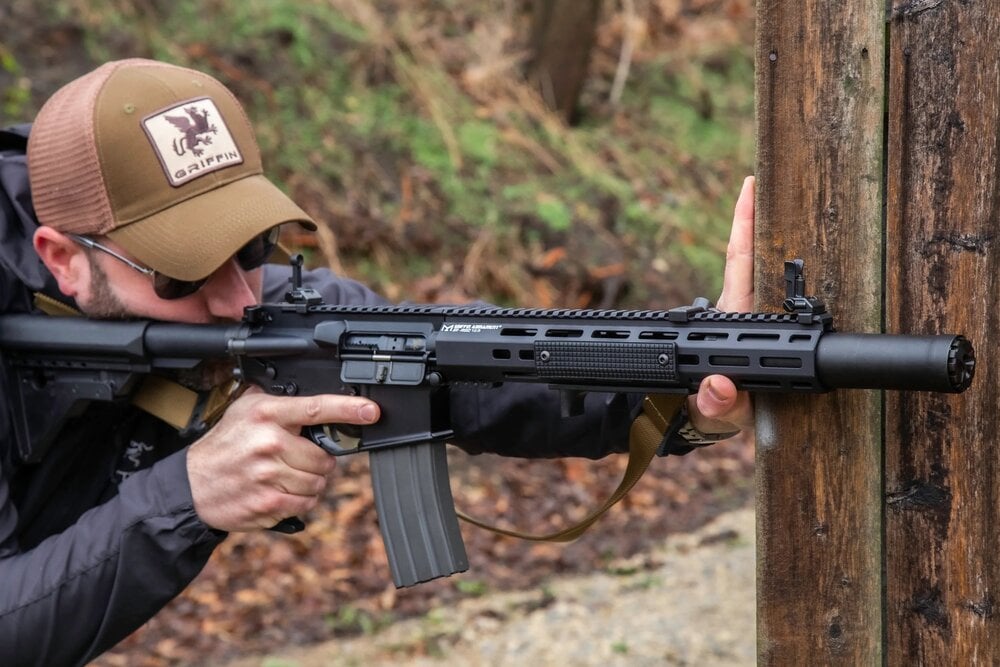 Rail Type
The rail system on an AR-15 is used for mounting accessories such as optics, grips, bipods, or lights. There are primarily three types of rail systems: Picatinny, KeyMod, and M-LOK.
Picatinny Rails: Often referred to as "Pic rails," these are the most​ traditional type of rail system and are ​recognized by their distinctive sawtooth design. This ​system provides a secure platform for mounting accessories but can be ​heavier and bulkier than other options. It's also important​ to note that Picatinny rails are standardized, meaning accessories​ designed for this rail will fit any Picatinny rail.
KeyMod Rails: The KeyMod system​ employs a negative space (keyhole) design that allows you to attach accessories at various points along the​ rail. This type of rail is lighter and more​ ergonomic than the Picatinny, ​but not all accessories may be compatible with it.
M-LOK Rails: The M-LOK (Modular Lock) system was developed by Magpul Industries as an​ evolution of the MOE slot system. Like KeyMod, M-LOK uses​ a negative space design but with rectangular slots. It ​offers similar weight and ergonomics advantages to KeyMod, but with​ a different attachment method that ​some users find to be more secure ​and easier to align correctly.​
There is no right or​ wrong way to go when choosing​ a rail system. The choice is completely up to you.​
Triggers
I pay much​ attention to how the trigger feels, so​ choosing it carefully is a must. Choosing the ​right trigger for any gun can ​significantly enhance your ​shooting experience, and AR-15s are​ no exception. There ​are several types of triggers available, and ​the best one for you depends ​on your specific needs and preferences.​
Mil-Spec Triggers: These ​are the standard triggers that come with ​most AR-15 rifles. They're known ​for their reliability but can have a heavy ​and gritty pull. They are usually single-stage​ triggers, meaning they​ have a consistent pull with no ​distinct stages.
Drop-in Triggers: These ​are pre-assembled ​trigger mechanisms that can be quickly and easily installed in your AR-15. They ​come in both single-stage and two-stage​ variants and offer a significant upgrade over​ standard mil-spec triggers in terms​ of smoothness and pull weight.​
Single-Stage Triggers

: These​ triggers have a consistent pull with no​ distinct stages. The trigger breaks as soon​ as sufficient pressure is applied. Single-stage triggers,​ such as those from Geissele ​SSA and CMC Triggers, are popular ​for their simplicity and consistency.

Two-Stage Triggers

: These triggers have ​two distinct stages of pull. The first stage is usually ​light and leads up to a clear 'wall', beyond which the second stage breaks and​ fires the round. Two-stage ​triggers are appreciated for their enhanced control ​and accuracy, especially for long-range shooting.
Cassette Triggers: These are a type ​of drop-in trigger, but the entire​ mechanism is enclosed in a metal 'cassette'. This​ design ensures that ​all the components remain perfectly aligned,​ resulting in a very ​consistent and reliable trigger pull.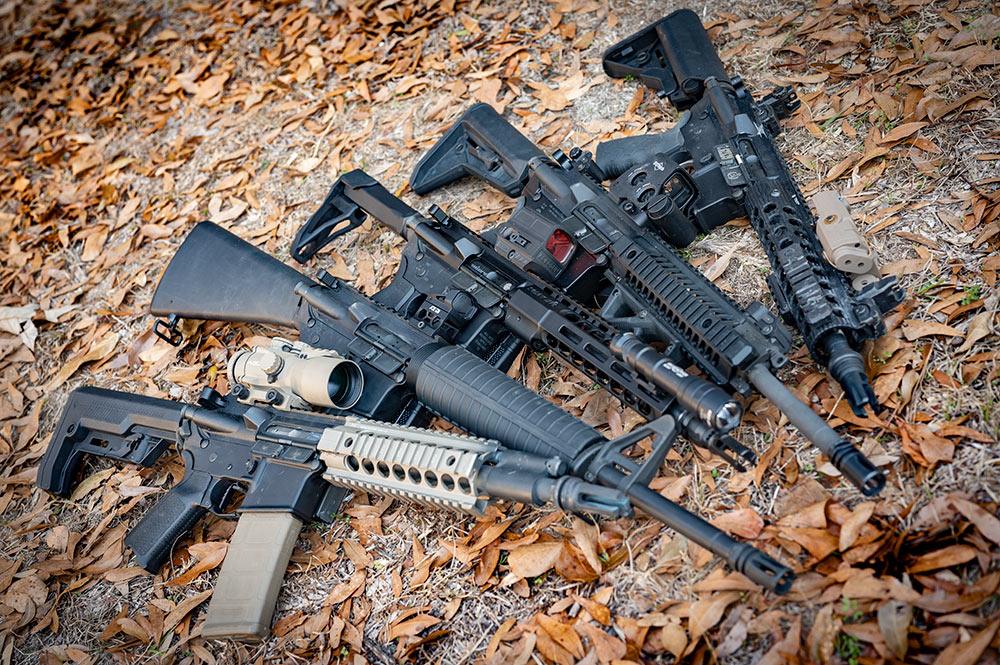 Stocks
The stock determines ​your shooting comfort, gives or takes ​control over the rifle, and contributes to ​the overall user experience. Here ​are various stock options available for​ AR-15 rifles:
Adjustable Stocks allow you to adjust the​ length of pull, which is the distance from the​ trigger to the back of the stock. This customization​ allows you to fit the rifle to your body ​size and shape. The Magpul MOE and ​the Mission First Battlelink Minimalist are popular adjustable ​stock options.
Fixed Stocks offer no adjustability ​but instead provide a solid and consistent shoulder​ mount. They are generally more ​stable than adjustable stocks and are ​a preferred type for precision shooting. Examples ​include the Magpul MOE Rifle Stock and Palmetto​ State Armory A2 Rifle Stock.​
Collapsible Stocks can be ​shortened or lengthened depending on your​ needs. This feature makes them​ versatile and ideal for different shooting ​situations. The Magpul PRS Gen 3 Precision Adjustable Stock​ is a notable example.
Barrel Length
Choosing the right barrel length for your AR-15 is​ crucial as it can significantly ​affect the rifle's performance, handling and ​being legal. The most popular barrel ​lengths for AR-15s are generally 14.5″, 16″, 18″, and 20″.​
14.5-inch Barrels: This​ is the standard carbine​ length used by the U.S. military's M4 and M4A1 rifles. These ​barrels offer a good balance between maneuverability ​and ballistic performance, making them suitable for close ​to medium-range engagements. Civilian-friendly ​options feature permanently attached muzzle devices to​ reach the 16" mark.
16-inch Barrels: A 16-inch barrel is​ often considered the most versatile general-purpose ​length. It offers a good mix ​of accuracy, velocity, ​and maneuverability, making it ​suitable for a wide range of​ applications from home defense​ to hunting and target shooting.​
18-inch Barrels: An 18-inch barrel ​can provide a bit more velocity ​than the shorter options, which can​ translate into slightly better long-range ​performance. These barrels are often used in the "SPR" (Special Purpose Rifle) configuration​ designed for precision shooting.
20-inch Barrels: This is the traditional rifle​ length, offering the highest muzzle velocity and best long-range performance​ among standard AR-15 sizes. However, the increased ​length can make the rifle more cumbersome in ​tight spaces.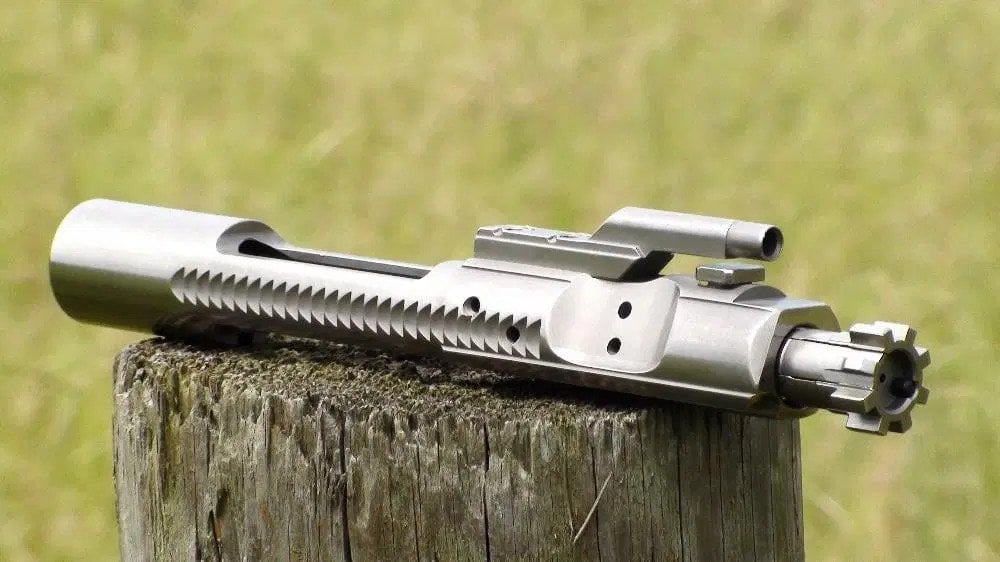 Bolt Carrier Groups
The Bolt Carrier Group (BCG) is a critical ​component of an AR-15, as it's​ responsible for the loading, ​firing, and ejection of rounds, basically the heart of it. ​When choosing a BCG for your AR-15, there are several types to consider:
Mil-Spec BCGs: These are the​ standard BCGs that come with most AR-15 rifles. They are designed to meet military specifications and​ are known for their reliability. Bravo Company Manufacturing (BCM) M16 BCG is a ​popular choice in this category.
Nickel Boron BCGs: These BCGs are coated with​ Nickel Boron, which reduces friction and provides smoother operation. The ​Aero Precision Nickel Boron BCG is a notable option.
Black Nitride BCGs: Black Nitride BCGs are heat-treated ​and hardened, offering high durability and corrosion resistance. Aero Precision​ and NBS offer some well-regarded Black Nitride BCGs.​
Phosphate BCGs: This type of ​BCG is coated with phosphate to enhance its resistance to wear and corrosion. ​Daniel Defense and Toolcraft are known for ​their high-quality Phosphate BCGs.
Diamond-Like Carbon (DLC) BCGs: DLC BCGs have a​ carbon coating that provides superior hardness, wear resistance, ​and slickness. Toolcraft is a popular manufacturer​ of DLC BCGs.
In case you are interested in ​how the BCG works, here's a short and comprehensive video from the sootch00 You-Tube channel.
Weight and Balance
Weight and balance are critical​ factors when choosing an AR-15, as they can significantly​ impact a shooter's performance.
Weight
The weight of the AR-15 affects​ its stability and handling. A heavier gun ​tends to feel more anchored, thus providing more ​stability during shooting, which can ​be beneficial for accuracy. However, heavy guns​ can be uncomfortable to carry ​for extended periods and might​ hamper your performance, especially from standing positions.​
Additionally, the ​weight of specific components, like the buffer, can influence​ the rifle's performance. For instance,​ increasing buffer weight​ can reduce felt recoil and muzzle movement,​ offering a smoother shooting experience.​
Balance
Balance refers to the ​distribution of weight in the rifle. An ​improperly balanced AR-15 is a pain ​to handle and will probably ​lead to poor shooting. Adding​ weight close to or on the ​center of gravity will have​ little effect on the ​balance of the weapon compared to adding weight at either end.​
A front-heavy rifle can​ be hard to lift and aim accurately, particularly in rapid​ succession or during extended shooting sessions. ​Conversely, a rear-heavy ​rifle can be difficult to control​ during firing, leading to increased ​muzzle rise. So, as always, seek balance ​and you'll find it.
Gas System
Choosing the right​ gas system for your AR-15 is crucial as it can affect the ​rifle's recoil, cyclic rate, and long-term durability. You ​can consider it another important organ of your rifle. There​ are four​ main types of direct-impingement gas​ systems you can choose from: Pistol, Carbine,​ Mid-length, and Rifle.
Pistol Gas System: The pistol gas​ system is the shortest of the four and is typically​ used on barrels that are less than 10 inches in length. While it offers​ the highest cyclic rate, it also generates the most​ recoil and can lead to increased wear and tear on the​ rifle due to the high pressure.
Carbine Gas System: The carbine gas system​ is commonly used on barrels between 10 to 18 inches long. It offers​ a balance between the high pressure of the pistol system and​ the lower pressure of the longer systems, ​making it a versatile choice suitable for a wide range of ​applications.
Mid-Length Gas System: The​ mid-length gas system is typically used on barrels that are 14 to 20 inches long. It offers ​lower recoil and better reliability ​than the shorter systems due to its longer gas tube, which​ allows for more dwell time and smoother cycling of the action.​
Rifle Gas System: The rifle gas ​system is the longest of the four. It operates at the lowest ​pressure, resulting in the least recoil ​and wear on the rifle parts, ​making it ideal for long-range​ precision shooting.
Grip
You won't let go of that grip throughout ​your whole shooting session so you'd want​ it to be comfortable. There are several types of grips available, ​each offering unique benefits. Here are some top options:​
Magpul MIAD (Mission Adaptable): This grip ​is known for its adaptability, allowing users​ to switch out different parts to fit their hand size and preference.​
Hogue OverMolded: Hogue's grips are renowned for​ their comfortable rubber overmolding, which provides a ​secure grip even in wet conditions.​
TangoDown BG-17: The TangoDown grip​ offers a more vertical angle, which​ can be more comfortable for ​shooters who prefer a squared-off stance.​
BCM Gunfighter MOD-3: Bravo Company's grip​ has a reduced angle for improved ​ergonomics, and it also includes a water-resistant storage compartment.​
Magpul MOE-K2: This grip has a steeper vertical ​grip angle optimized for short LOP (Length of Pull) weapons​ or those with a more forward hand position.​
Daniel Defense Pistol Grip: Daniel Defense's grip ​has a soft-touch overmolding and an integrated ​trigger guard for increased comfort.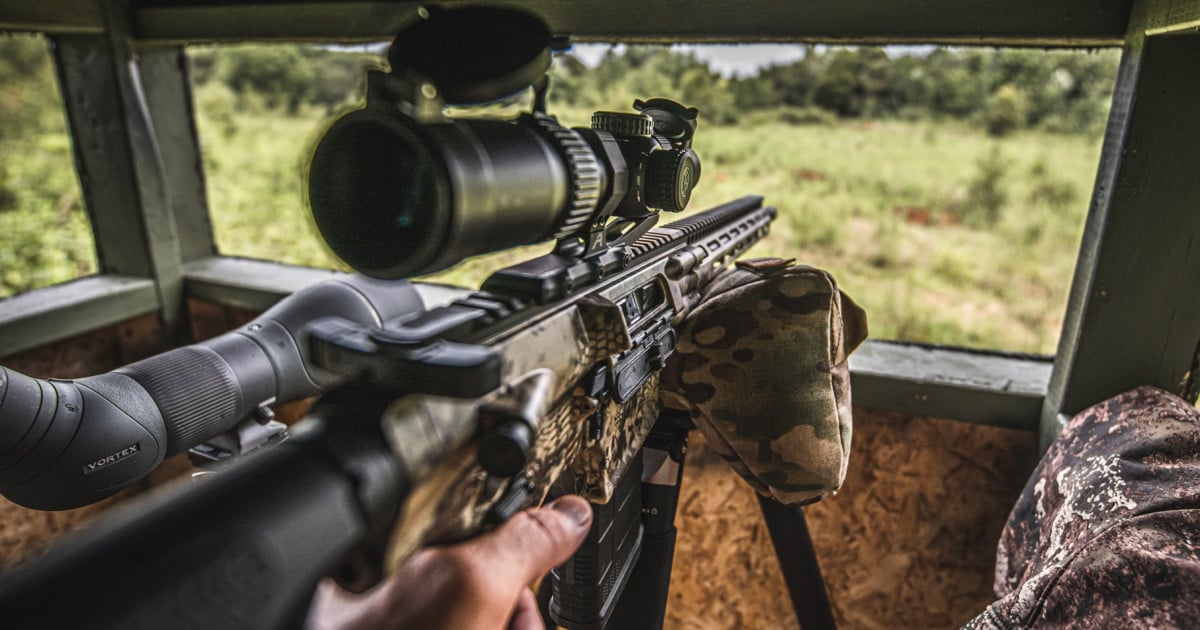 Optics
ARs always have ample​ space for accessories, so it would be a crime​ to let it sit unused. ​Different types of optics are ​designed for different​ applications, so it's essential to ​consider what you intend to use the rifle for when​ choosing optics. Here's a look at some options:
Red Dot Sights: Red dot sights are popular for their ​simplicity and speed. They are best suited for short-to-mid-distance ​shooting. Sig Sauer Romeo5 and Sig Sauer Romeo MSR ​are well-regarded options.
Holographic Sights: These work similarly to ​red dot sights but use a hologram instead ​of an LED to create the reticle. They offer ​wide field of view and are excellent ​for rapid target acquisition in close quarters.​
Fixed-Power Scopes: Fixed-power ​scopes have a single magnification level, which makes ​them more reliable and rugged due to fewer moving parts.​ The Trijicon ACOG 3×24 is a top choice for its durability and clarity.​
Variable Power Scopes: These scopes offer a range of magnification ​levels, allowing you to adapt to different shooting ​distances. Vortex Optics ​Strike Eagle 1-6×24 is a versatile​ option offering both close-quarters ​speed and long-range precision.​
Prism Scopes: Prism scopes are​ compact, durable, and offer excellent optical quality. They ​use a prism instead of lenses, ​which allows them to be​ smaller than traditional scopes. ​The Trijicon ACOG series is known for​ its high-quality prism scopes.
If you are interested in a more ​elaborate review on best AR-15 optics, check out our How to Pick the Perfect Red Dot Sight for Your AR-15 Rifle article.
FAQs
What are the types of AR-15?
The AR-15 is a versatile​ platform with numerous variations, each designed ​for specific applications. There are three main​ types of AR-15. The AR-15 Rifle is the standard type,​ typically featuring a barrel length of 16 to ​20 inches. The AR-15 carbine is a​ shorter version of the standard rifle, ​usually with a barrel length of 14.5 to ​16 inches. AR-15 pistols are the smallest​ configuration, generally featuring a barrel length ​of less than 12 inches.
What are the best AR-15 rifles for the money in 2023?
The best AR-15 rifles for the money are​ Daniel Defense DDM4 V7, Springfield ​Saint Victor, Wilson Combat​ Recon Tactical, CMMG Resolute MK4, ​CMMG Resolute MK4, Colt AR15A4 and Noveske Infidel Gen 4.​
What are the key factors to consider when choosing the best AR-15?
When buying an AR-15, ​make sure your rifle features a 1:7 or​ 1:8 barrel twist rate. The gas​ system should be either mid-length or rifle. Pay​ attention to the type ​of bolt carrier group to make sure it was duly treated and​ tested. Other aspects are more​ about personal choice rather than general rules. 
What are some of the best AR-15 brands to consider when buying?
When it comes to buying an AR-15, ​several brands have​ been recognized for their quality, performance,​ and reliability. Those include Bravo Company (BCM), Daniel Defense, ​Colt, Knight Armament, LWRC, ​Palmetto State Armory (PSA), Aero ​Precision, Springfield Armory and American Tactical Imports.
What kind of ​muzzle devices are best for AR-15s?
Muzzle devices for AR-15 rifles ​come in various forms, including muzzle brakes, compensators, ​and flash hiders, each designed to perform a ​specific function. The best muzzle device would be the one that performs​ the function you need it to.  
Source link: https://blog.gritrsports.com/best-ar-15/ by Timothy Chandler at blog.gritrsports.com